As the UP sa Halalan 2019 project of the Department of Political Science, University of the Philippines (UP) Diliman officially closes, we would like to thank various institutions and partners who helped make the project a success.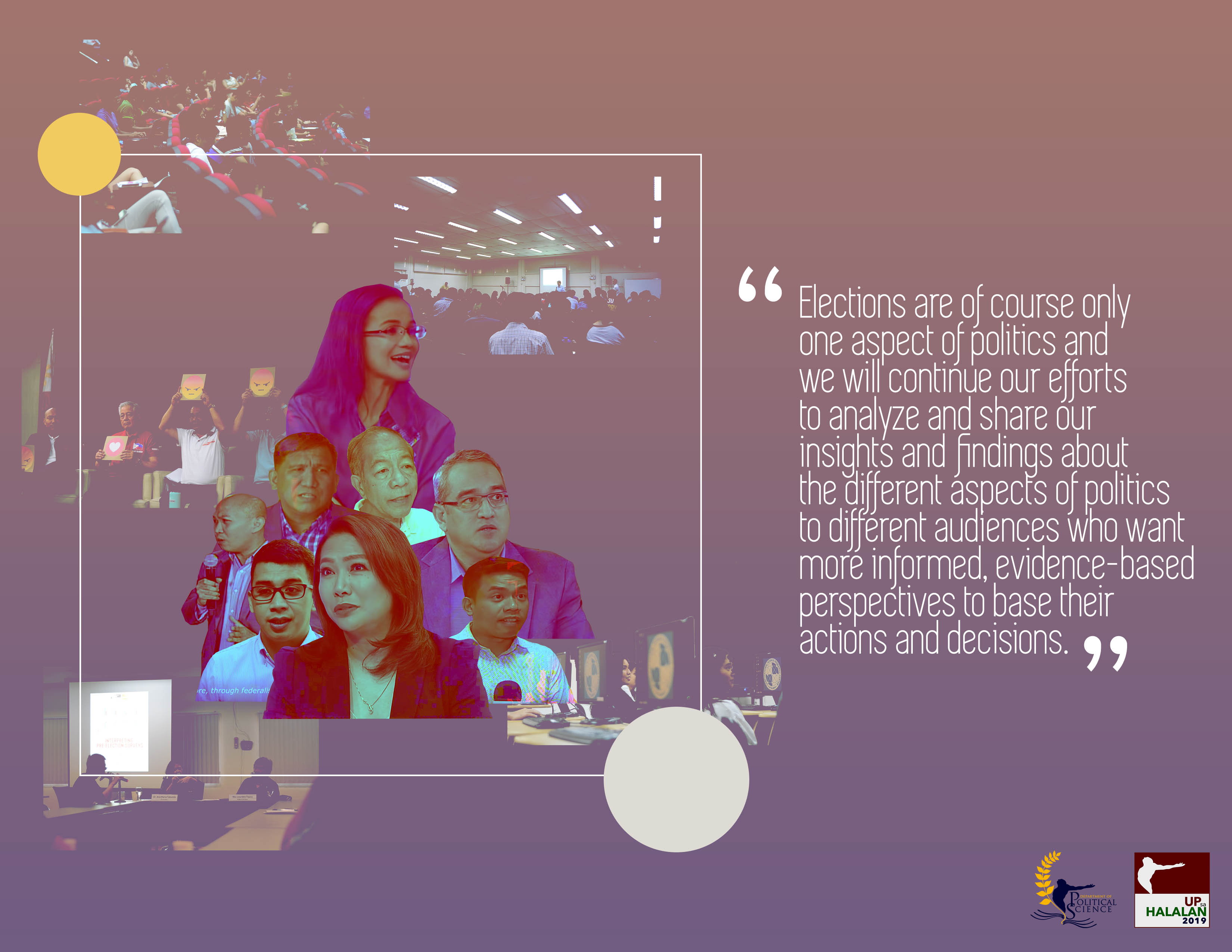 First of all, we are grateful to the Office of the Vice Chancellor for Research and Development headed by Vice Chancellor Fidel Nemenzo, particularly the Office of Extension Coordination headed by Director Lenore P. de la Cruz, for funding the project. Second, we thank the Office of the Vice President for Public Affairs (OVPPA) headed first by Vice President Jose Dalisay, Jr. and then Vice President Elena E. Pernia, particularly the Media and Public Relations Office (MPRO) headed by Director Frances Fatima M. Cabana, for allowing us to use the UP sa Halalan name and continue the project which OVPPA started and managed during the 2013 and 2016 elections. We are particularly grateful for all the assistance we received from MPRO in promoting the project, facilitating connections with possible partners, setting up the project's website and social media accounts, and covering and disseminating our project activities.
Third, we acknowledge the different units and groups within the university who partnered with us in our project activities (trainings, lectures, seminars, senatorial debates, discussions, infographics, etc.). Some of them even initiated the projects and invited us to partner with them. At the system level, we thank the Center for Integrative and Development Studies' Program on Social and Political Change and Program on Data Science for Public Policy. In UP Diliman, we thank DZUP, the Department of Journalism and Tsek.ph project, the National College of Public Administration, the UP Theater, and the University Computer Center. Within the College of Social Sciences and Philosophy, we are grateful for the partnerships with the Dean's Office and other CSSP offices, as well as the Departments of History and Sociology. We were also able to work with student organizations and alliances like UP Political Society and Bantay Boto.
Fourth, we have partnered with CNN Philippines when we helped organize its first senatorial forum in UP last December. We also worked with the Green Thumb Coalition, together with the Department of Sociology, when we helped organize the environment-focused debate among senatorial candidates and party-list groups. We are grateful for various media groups and their representatives based both in the Philippines and abroad for inviting us to contribute our insights and analysis of election-related issues, candidates, platforms, political parties, campaigning, voters' behavior, actual conduct and results of the elections, and Philippine politics in general.
All these different partnerships helped us reach out to more sectors of the public outside UP Diliman. We are especially grateful to individuals and groups who shared our analyses, infographics, and other information to their own networks.
The UP sa Halalan 2019 project is truly a Department project with academic, administrative, and research staff working together with our networks and some support from our students from the project's inception last year to its' actual implementation. Due credit will have to be given to the people who helped me in finishing the project proposal. They are: Professor Ruth Lusterio-Rico, Assoc. Prof. Aries Arugay, Asst. Prof. Jean Encinas-Franco, Asst. Prof. Francis Dee, Asst. Prof. Jan Robert Go, and Asst. Prof. Jalton Taguibao who heads our Extension Committee. It is truly gratifying to see how a large number of our faculty members across ranks and age groups—some were even on study leave and currently based abroad—contribute in different ways to make the project and the various activities successful. Many worked overtime in the period immediately before, during, and after the actual May 14 elections. We are especially grateful for the support given to the project by our University Research Associate, Ms. Ma. Cecilia de la Rosa, and our UP sa Halalan project research assistant, Ms. Herby Jireh Esmeralda.
As UP sa Halalan 2019 ends, our social media accounts will continue as we will occasionally post-election-related activities and analysis of the recent elections. We are hopeful that we can maintain the project website as we propose new election-related projects that may support its' continued operation. Our extension work in the Department of Political Science, UP Diliman will continue in terms of sharing our analysis and research outputs to a broader audience and we hope that we can continue helping different stakeholders and sectors in Philippine politics inside and outside the country in trying to understand the situation better and possibly make decisions and actions informed by more evidence. Elections are of course only one aspect of politics and we will continue our efforts to analyze and share our insights and findings about the different aspects of politics to different audiences who want more informed, evidence-based perspectives to base their actions and decisions.
Maria Ela L. Atienza, PhD
Professor and Chair