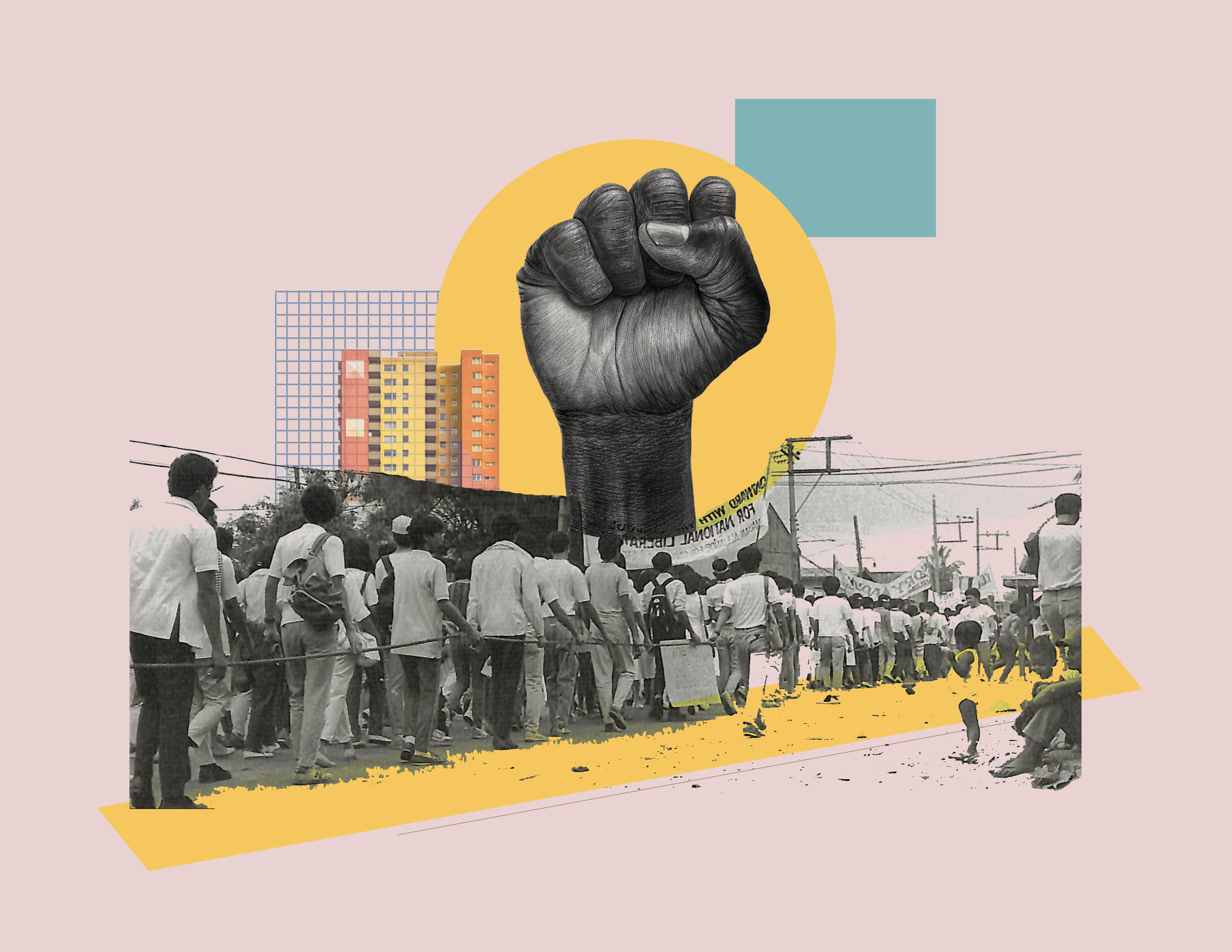 by Dennis V. Blanco, DPA
The 2019 Philippine midterm elections is already over; yet, the results still generally reveal that dynastic families continue to dominate electoral contests both at the national and local levels. Except for a few exceptions such as the defeat of political dynasties in Manila, San Juan, Pasig, Makati, Dinagat Islands, and several municipalities in the country, a push for the passage of an anti-political dynasty law is still relevant and the call from civil society movements to ban political dynasties still continues.
Civil society performs several democratic functions, such as (1) being a center of collective political resistance against a capricious and oppressive government; (2) organizing people for democratic participation; and (3) socializing people into the political values necessary for self-government (Rosenblum and Post 2002, 17-18 as cited in Rivera 2016a). There are two leading anti-political dynasty civil society movements in the Philippines, namely, the Movement Against Dynasties (MAD), which began an initiative petition that hopes to gather 5.2 million signatures for the adoption of a national law prohibiting political dynasties in the country, and the Anti-Dynasty Movement (ANDAYAMO), which is a movement seeking to dismantle the monopoly and consolidation of economic and political power of a few families via dynasties.
These civil society groupings are motivated by a number of arguments backed by empirical evidence. The existence of political dynasties is cited as the cause of political inequality, lack of electoral sovereignty, undemocratic election practices, low standard of living of constituents, and even high poverty incidence (Mendoza et al. 2012; Balisacan and Fuwa 2003). Moreover, Mendoza et al. (2012) also cited the disadvantages of having political dynasties. First, they weaken political participation and representation. Second, the lack of political competition could have significant effects on socio-economic outcome. Third, patronage politics contributes to the survivability of political dynasties. Fourth, it could have causal effects on socio-economic outcomes through policy choices. Finally, it can lead to state capture by dynastic families.
Furthermore, the pitfalls of political dynasties can be gleaned from the following statistics as supported by academic research and literature. For instance, seventy percent of the 15th Philippine House of Representatives is considered dynastic, and 80 percent of the youngest members (age 26-40) are from the dynastic class (Mendoza et al. 2012, 2). Seventy-two out of the 77 provinces or 94 percent have political families. The average number of political families per province is 2.31, meaning, there are at least two political clans in most of the provinces (Rivera 2016b). Finally, dynasties dominate all of the major political parties (Mendoza et al. 2019).
There are indeed difficulties and challenges involved in the efforts, attempts, and movements for the passage of an Anti-Political Dynasty law owing to the refusal of some powerful politicians particularly in Congress to enact one because it would mean relinquishing and losing their seats and of their families to people not within their family circles. But there are also differences in methods and approaches on how political dynasties may be limited as part of the political culture.
For example, Bernas (2013) believes that any movement which lobbies for the passage of an anti-political dynasty law would hit a snag if the political and legal means of doing it is by way of people's initiative and referendum. He believes that to date, there has been no enabling law which would legitimize and validate initiative and referendum as an effective tool for constitutional amendments and in the promulgation of the law. Bernas advances the notion that a well-informed, well-educated, and voter literate citizenry is still the best precondition and viable democratic option in toppling political dynasties as a way of political life.
On the other hand, Cruz (2012) implies that the formation and creation of an anti-political dynasty movement would allow participatory democracy in effect through being parliamentarians in the streets voicing their condemnation of political dynasties and taking concrete actions through the process and extent of people's referendum and initiative of defeating it, when he stated that, "So it is left to us ordinary citizens to enforce our Constitution. After all, we are the 'bosses' of all the high and mighty in government. We should not vote for any member of political dynasties in next year's polls and thereafter. Only when the political dynasties are wiped out will we achieve true freedom from the clutches of politicians."
However, Bernas and Cruz were unanimous in saying that only voter's literacy and education which equip voters to choose the right candidate on the basis of platforms, track record, qualifications, and competence and not on wealth and power are the progenitors of change and means of shunning candidates from dynastic families.
With this in mind, civil society movements like MAD and ANDAYAMO must continue to push for the abolition of political dynasties in the Philippines through the legislative mechanisms reserved to the people by virtue of referendum and initiative. Realizing that Congress still has not passed an enabling law that will make Section 26 of the 1987 Philippine Constitution operational and enforceable against its members' own political dynasties and that the Supreme Court cannot still rule against political dynasties because there is no enabling law yet that will enforce the provision of the Constitution, these civil society movements need  to run a  more collaborative sustainable focus  and comprehensive strategy to champion the anti-political dynasties campaign in the Philippines. These can be done in two ways, first, by unifying and building a single, bigger coalition against political dynasties and second, by popularizing and communicating a voters' guide about the perils of political dynasties in print, broadcast, and social media campaigns.
These civil society movements are a compatible response to Dressel's (2014, 19) forecast for the deepening of public administration in Asia which requires the respect and upholding of the rule of law in a constitutional manner of transforming the political culture and values in Asia when he concludes that:
"What might we expect for the future? The analysis here suggests that the process of bringing constitutional law and values into administrative practice in Asia is likely to take considerable time, rapid institutional and legal changes notwithstanding. If institutions are to perform differently, it is not only legal changes that are needed. Citizens need to want them to work differently. Citizen attitudes are critical because they can provide incentives for political and bureaucratic elites to change their behaviour."
In the end, the occurrence of political dynasties create persistent patterns of patronage politics. But it is also widely believed that patronage politics breeds vote-buying, corruption, rent-seeking and more political dynasties which adversely affect the political attitude and behavior of the citizenry and the electorate. It is in these dimensions that civil society movements play a crucial role in collectively organizing, galvanizing, and mobilizing a unified effort and a cohesive campaign to further educate the voters and enlighten the citizenry about the social, economic, and political ills of political dynasties. Civil society movements must possess an unflinching ideal and an unwavering hope to transform political attitudes and political behavior supportive of the persistence of political dynasties into political values and political exemplars that shun and veer away from the former.  It is by doing this, that civil society movements can truly emerge as anti-political dynasty champions.
---
* Assistant Professor, Department of Political Science, University of the Philippines Diliman
REFERENCES
Balisacan, Arsenio M. and Fuwa, Nobuhiko. 2003. "Is Spatial Income Inequality Increasing in the Philippines?" UNU/WIDER Project Conference on Spatial Inequality in Asia.  Tokyo, Japan: United Nations University Centre.
Bernas, Joaquin. 2013. "The Anti dynasty campaign". Sounding Board. Philippine Daily Inquirer, 17 February. Retrieved at: http://opinion.inquirer.net/47067/the-antidynasty-campaign.
Cruz, Neal. 2012. "Let's Have an Anti-Dynasty Political Movement". As I See It. Philippine Daily Inquirer, 4 November. Retrieved from: http://opinion.inquirer.net/40168/lets-have-an-anti-political-dynasty-movement
Dressel, Björn. 2014. "Public administration and the rule of law in Asia: breadth without depth?" Asia Pacific Journal of Public Administration 36 (1), 9-21, DOI:10.1080/23276665.2014.892270.
Gopetition.com. 2019. Movement against Political Dynasties. https://www.gopetition.com/petitions/movement-against-political-dynasties.html
Mendoza, Ronald U., Lopez, Mario Antonio G., Yap, David B., Canare, Tristan A. 2019. "The 2013 Philippine Mid-Term Election: An empirical analysis of dynasties, Vote-Buying and the Correlates of Senate Votes". in Building Inclusive Democracies in ASEAN, edited by Ronald U. Mendoza, Edsel L. Beja Jr., Julio C. Teehankee, Antonio M. La Vina and Maria Fe Villamejor-Mendoza,  119-128. Singapore: World Scientific Publishing Company.
Mendoza, Ronald U.,  Beja Jr., Edsel L.,  Venida, Victor S. and  Yap, David B. (2012). "Inequality in Democracy: Insights from an empirical analysis of political dynasties in the 15th Philippine Congress." Philippine Political Science Journal, 33 (2), 132-145.
Pangilinan, Francis. 2018. Senate Bill No. 1765 otherwise known as The Anti-Political Dynasty Act of 2018. 21 March. Available at: https://www.senate.gov.ph/lisdata/2776724041!.pdf
Rivera, Temario C. 2016a. "Philippine democratization: Summing-up key conceptual, institutional, and developmental issues". In Chasing the Wind: Assessing Philippine Democracy, 2nd edition, edited by Felipe B. Miranda and Temario C. Rivera, 246-262. Quezon City: Commission on Human Rights of the Philippines and United Nations Development Programme.
Rivera, Temario C. 2016b. "Rethinking democratization in the Philippines: Elections, political families, and parties". In Chasing the Wind: Assessing Philippine Democracy, 2nd edition, edited by Felipe B Miranda and Temario C. Rivera, pp. 43-74. Quezon City: Commission on Human Rights of the Philippines and United Nations Development Progamme.
Rosenblum, Nancy L. and Robert C. Post. 2002. Civil society and government. Princeton, New Jersey: Princeton University Press.