Back-to-back discussions after the PiliPinas Debates 2022 were held last March 19 and 20 via Twitter Spaces. Thousands of listeners tuned in to know how the candidates performed during the debates, what the candidates' stances are on pressing issues, and who presented concrete platforms through the political insights of resource speakers from the UP Department of Political Science.
Play the recordings here:
Presidential debate (Part 1)
tinyurl.com/DebateMar19
Vice presidential debate (Part 2)
tinyurl.com/DebateMar20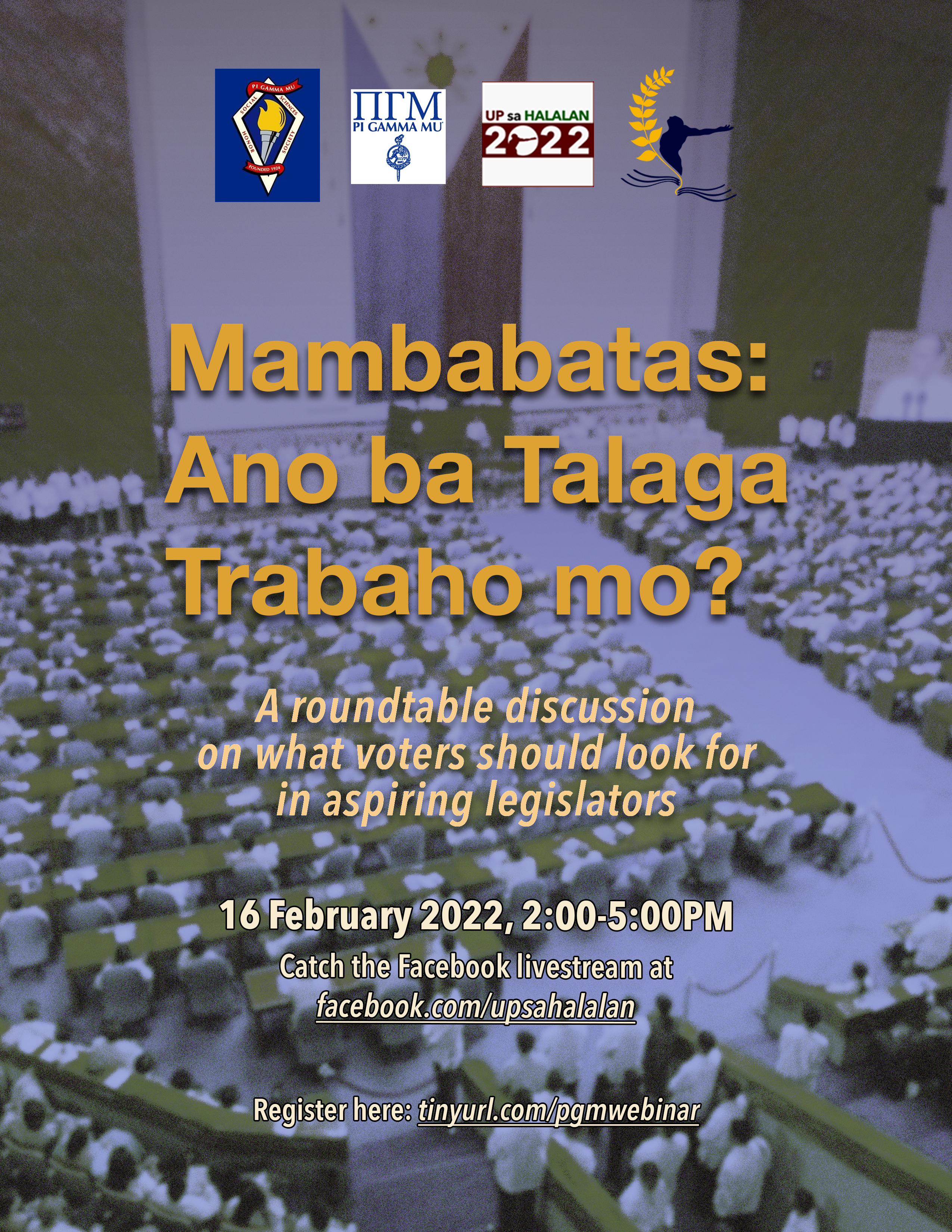 Jointly organized by the Pi Gamma Mu Philippine Alpha Chapter, and the UP sa Halalan 2022 by the Department of Political Science, this roundtable discussion brought together former legislators and legislative staff including former Senator and Quezon City 3rd District Representative Nikki Coseteng, Senate Committee Secretary Horace Cruda, and Senior Legislative and Communications Officer Marc Aguimatang to discuss the roles of the senate and what voters should look for in electing their next lawmakers. Replay the forum here.
In partnership with DZUP, the official radio station of UP Diliman, the UP sa Halalan Project headed by the Department of Political Science launched Radyo Halalan last 23 February 2022. Radyo Halalan is geared towards voter education and political analysis of the latest developments in Philippine politics, with a specific focus on the upcoming 2022 national elections. Radyo Halalan airs every third Wednesday of the month, at 1 PM, via DZUP 1602 kHz, with simultaneous livestreams via dzup.org and fb.com/dzup1602am.
Read more >>
by Nathaniel Punongbayan Candelaria
Mahalagang pag-usapan ang mga isyung panlipunan na lubhang makakaapekto sa mga mamamayan sa darating na eleksyon. Isa sa mga isyu na nais kong bigyang-diin sa sanaysay na ito ay ang isyu ng food security sa Pilipinas, na lalong pinalala ng pandemya dala ng COVID-19.
by Asst. Prof. Francis Joseph Dee
If you decide to abstain, don't expect the decision to improve things after this coming election or even in future ones. Abstention can be a valid way to fulfill one's civic duty, but just like voting, it should be the conclusion of a decision-making process that involves a lot of hard questions
by Asst. Prof. Francis Joseph Dee
The most common reason to cast an insincere vote is because the voter is trying to affect the outcome of the election but their most preferred candidate seems unlikely to win. In cases like this, a sincere vote is unlikely to affect who wins the election.
by Prof. Ruth Lusterio-Rico
The 26th Conference of the Parties to the United Nations Framework Convention on Climate Change (UNFCCC) or COP26 is currently ongoing, with over a hundred heads of state attending the meeting in Glasgow, Scotland. But should Filipinos bother with this international meeting? Is climate change an issue that should be considered in the upcoming 2022 elections?
UP sa Halalan 2019
UP sa Halalan 2019: Giving context to the elections
An initiative which traces its roots to the UP sa Halalan project by the university's Office of the Vice President for Public Affairs in the 2013 and 2016 elections, the project aims to provide the public with viewpoints from experts in political science, governance, the electoral process and other issues confronting the electorate.
Department chair and project head Prof. Maria Ela Atienza said the project aims to continue "the kind of work particularly during elections, where we present analysis, evidence-based data, that hopefully can inform different sectors about what is at stake during elections."