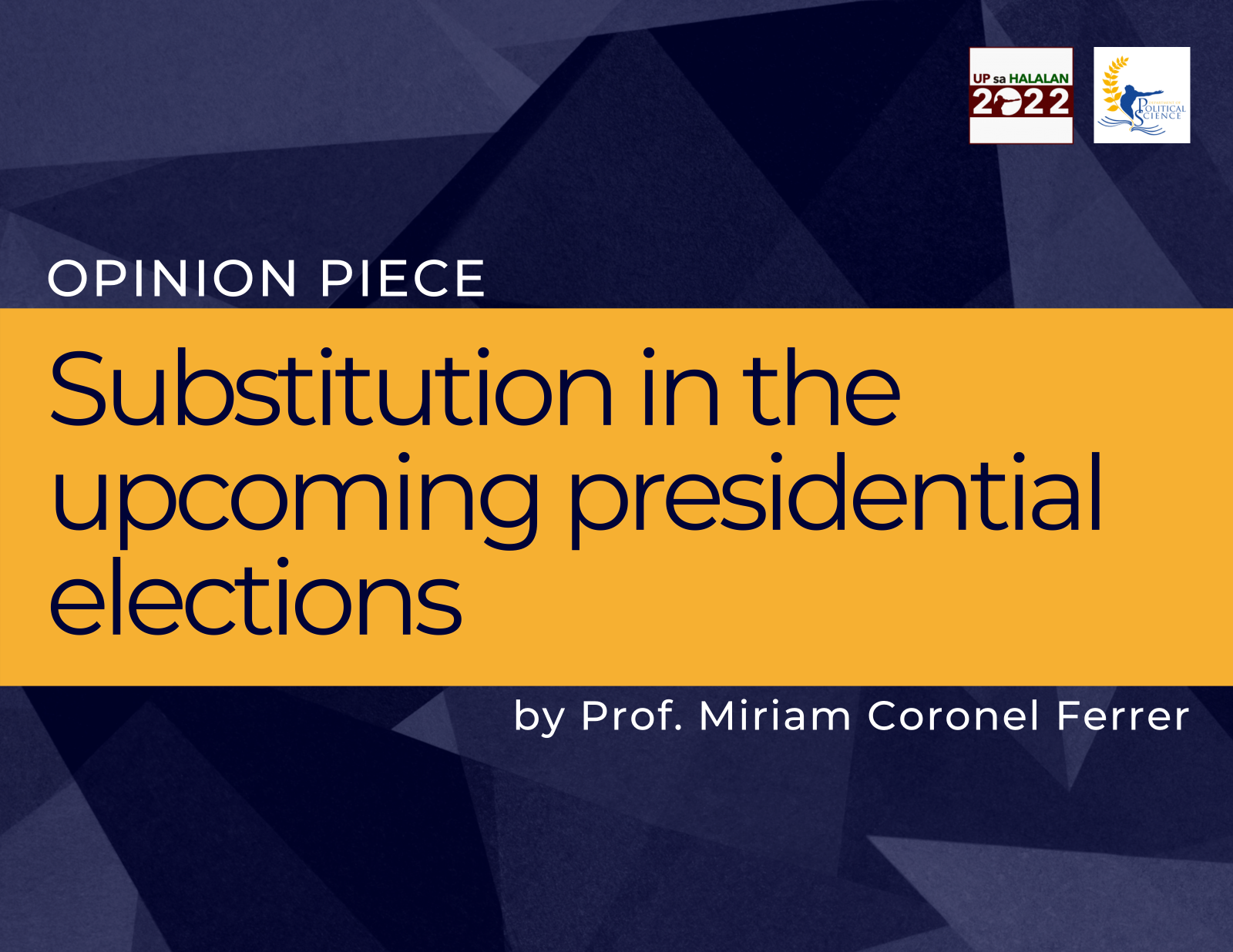 While the latest pronouncement is that Sara Duterte will definitely not run for president, not everyone is convinced that this will not happen. Not until November 15 anyway, the last day for substitution of candidacy for non-independent candidates.
At least two things keep us suspicious. First was our experience six years ago when, after much hedging, President Rodrigo Duterte substituted for Martin Diño in the PDP-Laban slate. COMELEC had approved this, in fact, even though Dino had actually filed to run for Pasay mayor. On the grounds of 'clerical error' of the post applied for, COMELEC allowed the elder Duterte to run for president in lieu of Diño.
Then there was the last-minute filing as presidential candidate of incumbent senator and former police chief Rolando "Bato" dela Rosa last October 8. To no small degree, it bolstered the suspicion that some substitution may indeed be in the offing. Dela Rosa filed his candidacy under the headless PDP Cusi-faction, with whom the incumbent president is aligned. The senator was nowhere in the radar screen to go for the top post. But always the good soldier, he did, while the more senior others in this clique chose not to risk further damage on their names on what appears to be the only game plan left for them. (Truly, dela Rosa reminds me of the joke my father once made of General Fabian Ver. As the joke goes, Marcos asked Ver to jump from a high-rise building, and the loyal Ver replied, "Which floor?")
For this game plan to see the day, several perfectly legal steps would need to happen: Sara has to be sworn in as PDP member. Then she has to withdraw her re-election bid for Davao mayor. She could easily be substituted there by another Duterte or Duterte ally who is a member of her political party, Hugpong ng Pagbabago. This way the family will keep their hold on the city. Senator Bato would then need to withdraw his candidacy, with Mayor Sara substituting in his stead.
Before or even after Senator Bato withdraws, however, one other technicality has to be overcome. PDP has two wings – Cusi-led on one side, and on the other side, presidential candidate Manny Pacquiao along with senator Koko Pimentel (as son to PDP founder Aquilino "Nene" Pimentel, Koko has some kind of inherited mantel over the party). Soon, COMELEC will have to decide which of the two is the legitimate one. The acknowledged faction will enjoy all the benefits of a duly-registered party (the official slate, access of poll watchers to the election precincts, copies of election certificates and canvasses).
Of course, we are assuming here that Sara would want to run under PDP.
What if COMELEC upholds the Pacquiao faction as the legitimate PDP? Senator Bato can still run for president as an independent. But then what's the point? What options remain for the movers of 'Sara for president'?
There are about 14 political parties, old and new, with presidential candidates. Discounting the parties of the other main presidential candidates, notably Isko Moreno's Aksyon Demokratiko, Panfilo Lacson's Partido para sa Demokratikong Reporma, Bong-bong Marcos's Partido Federal ng Pilipinas, and the ideological ones like Partido ng Masang Pilipino and Partido Demokratiko Sosyalista ng Pilipinas, there could be other vehicles that can at the last minute enable another Duterte substitution to happen. Note: since Leni Robredo is running for president, there can be no substitution for her, or for that matter, the Liberal Party of vice-presidential candidate Francis Pangilinan.
The wheeling-and-dealing that has now marked the very beginning of a national election when candidates officially register their intent shows how crass not a few members of the political class can be. For them, election is a tool to gain and keep political and economic power for their own ends. It can be manipulated to suit their purposes.
Substitution is a regular practice in electoral processes. But tighter rules would need to be in place and the COMELEC must exercise greater discretion. It should guard its autonomy without fear or favor. It should not set precedents that make craters out of loopholes so large you can fit all the malice and ill intentions of the dirty rags among our political class.
The good thing is that a lot more people than in 2016 are seeing through these maneuvers. There is, after all, still some truth to the saying: Fool me once, shame on you; fool me twice, shame on me.